---

Specifications & Performance

(source: Pontiac Motor Division)
engine:  3.8L SFI V6 Intercooled Turbo
         rated 250 bhp @ 4400 rpm, 340 lb-ft torque @ 2800 rpm
 
         bore x stroke:    3.800 in. x 3.400 in.
         valves:           1.710 in. intake, 1.490 in. exhaust
         crankshaft:       nodular iron with 4 cross-drilled 
                           main bearings and 6 counterweights
         rods:             cast Armasteel, 151mm long
         pistons:          special design, 8.0:1 cr,
                           46.4mm compression height
         maximum boost:    16.5 psi
         recommended fuel: pump octane of 91 or greater
 
trans:   200-4R 4 speed automatic with lockup torque converter
 
brakes:  power 4-wheel disc, dual piston aluminum calipers
         vented 12" front, 11.7" rear rotors
 
chassis: front MacPherson strut
         rear live axle, 3.27:1 Borg-Warner "Australian" 
            limited slip with torque arm
         sway bars 36mm front, 24mm rear
 
         wheelbase         101.0"
         length            191.6"
         width             72.4"
         height            50.0"
         track f/r         60.7"/61.6"
 
         curb weight:      3346 lbs.
         weight dist, f/r: 57.0/43.0
 
performance:  0-60:        5.5 sec
              1/4 mile:    13.5 sec
              60-0:        139'
              roadholding: 0.86g
              weight/hp:   13.4:1
 
---

---
Production Figures
Number  Options
------------------------------------------------
 1,324  T-Top & Leather Interior
   187  T-Top & Cloth Interior
    24  Hardtop & Leather Interior
    15  Hardtop & Cloth Interior (Base)
------------------------------------------------
 1,550  Total Production Cars
 
     4  Pilot Cars with T-Top & Cloth Interior
     1  Pilot Cars with Hardtop & Leather Interior
------------------------------------------------
     5  Total Pilot (Pre-Production) Cars
 
================================================
 1,555  Total Cars Built
 
The five pilot TTAs, because they were for pre-production use, were pulled off the Van Nuys assembly line without regard to color and, in fact, they were not white. Because at least two of these pilot cars were sold to private individuals, there are at least two extremely rare, non-white, factory TTAs in existence!
GM did not offer a factory convertible TTA. However, one was created by ASC for PAS president Jeff Beitzel. This car is unique in that its origins are shared with PAS stablemates Syclone and Typhoon and the ASC-built GNX. The world's only ragtop TTA has changed hands several times, and is presently owned by a wealthy Mexican oil baron who loves Pontiacs.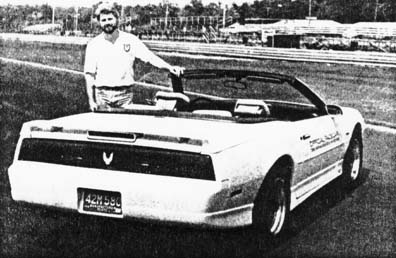 Rare photo of Jeff Beitzel and the convertible TTA.
---